We are pleased to announce the release of aTV Flash version 4.3 for the original silver AppleTV. Included are some new features, as well as a number of improvements to existing features and core components. Read on for more details.
What's new in 4.3?
Added File Sharing (SMB Server)
Improved DVD file playback
Improved metadata scrapers
Improved Last.fm scrobbling (2.0)
Improved FTP and SSH connections
Improved memory management
Improved installation routine
Improved system tools
Minor UI improvements
Other miscellaneous fixes
What can I do with File Sharing?
File Sharing allows you to stream non-iTunes media stored on your AppleTV (including media stored on external drives) to other devices including a second AppleTV (silver or black) or a Mac/PC computer.
How to use File Sharing
After installing the File Sharing package through the Maintenance --> Install Extras menu, the File Sharing option can be enabled through the Maintenance --> Settings menu.
When File Sharing is enabled (or set to Auto-Start) the relevant connection info will be visible when the File Sharing item is highlighted. The AppleTV's username and password are both 'frontrow' (without quotes).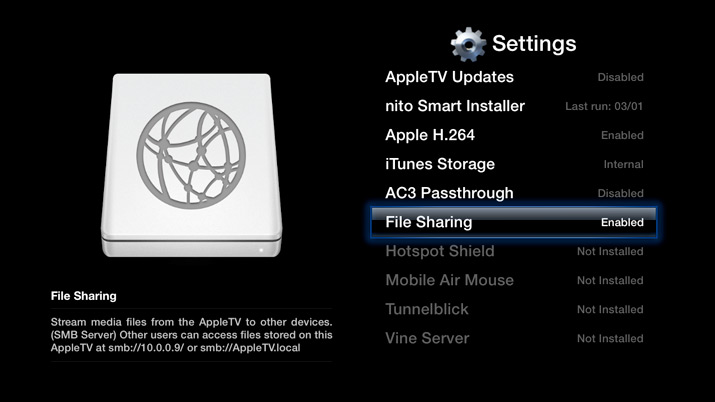 Great! Where can I get it?
aTV Flash version 4.3 is available through the Downloads tab in your account. If you're already running aTV Flash on your AppleTV you can update through the Maintenance --> Manage Plugins menu.
Enjoy! :-)