You may have noticed, but we try hard to keep making aTV Flash (black) better and better through regular software updates. Our update cycle philosophy has always been to provide frequent, steady improvements, and to resolve as many issues as we can get our hands on.
Today we are happy to release aTV Flash (black) 1.7 which, among other things, features seamless access to trakt.tv. trakt.tv is a free service that automatically tracks the movies and TV shows you watch, and provides recommendations for related content you may find interesting.
trakt.tv Scrobbling and Ratings
With our trakt.tv integration on the Apple TV, watched movies and TV shows are automatically 'scrobbled' back to your trakt.tv profile. You will also have the option to submit ratings for each video right from the Apple TV menu. Support for 2-way sync is also in the works, and will be available in a future version.  
To learn more about trakt.tv, or to signup for a free account, please visit http://trakt.tv/.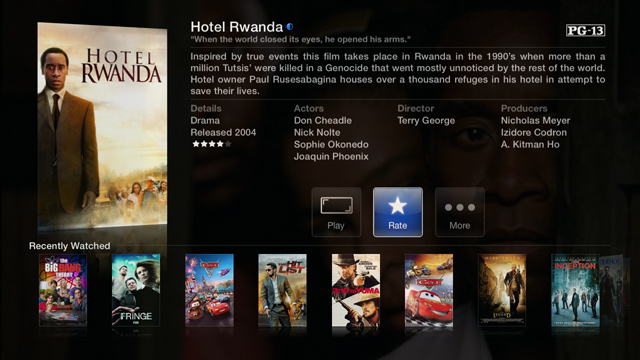 Easily send Movie and TV Show ratings to trakt.tv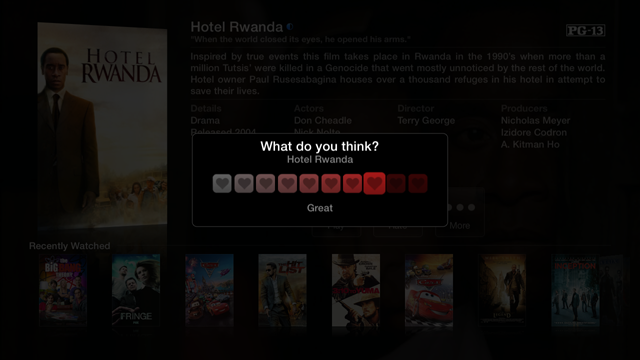 Supports simple (not pictured) and advanced ratings
What about the ATV3? Any news?
Unfortunately the jailbreak for the 3rd gen Apple TV has proven to be a bit elusive up to this point. Work is still ongoing, and we'll be sure to announce any developments as they become available. Be sure to follow us on Twitter, Facebook and Google+ for up to the minute info.
Full Changelog
Added trakt.tv integration (scrobbling and ratings)
Added localized movie poster art
Added localized movie ratings
Added AirControl (beta) - an open control API for Apple TV
Added support for embedded DVB subtitles
Added advanced read-ahead buffering for SMB and NFS shares
Added Simplified Chinese translation
Added 'Update All' option
Added support for secure web logins
Improved metadata fetching speed
Improved video rotation detection for MOV files
Improved support for YUVJ420 & YUVJ422 formats (used by digital cameras)
Improved top-level menu layouts
Resolved crash when accessing ISO files on certain shares
Resolved potential streaming issues when using an unstable network
Resolved AFP related memory management issues
Other minor improvements & fixes
Nice! Where can I get it?
If you're already running a version of aTV Flash (black) the new 1.7 version can be installed through the Maintenance --> Manage Extras menu. Links for the new version can also be found in your account under the Downloads tab.
If you're new to aTV Flash (black) you can learn about all the great benefits here.
Enjoy. :-)
Update: A few users are reporting issues with Plex running on the 5.0+ software. The Plex plugin for Apple TV is quite outdated, and we recommend removing it before installing any updates. If you're using Plex and are experiencing trouble a workaround can be found here please re-run the aTV Flash (black) installer.
Update 2: A workaround has been found to get Plex up and running again. More info can be found here.