We are pleased to announce the release aTV Flash (black) Beta6 for the 2nd generation AppleTV.
Beta6 includes huge improvements in playback performance that come by way of a brand brand-new, lightweight player that has been built from the ground up specifically for iOS. This new player empowers your AppleTV to play a wide variety of media formats without having to sacrifice the simplicity of the native AppleTV interface.
Keep reading to find out all the details.
What's new in Beta6?
General
Added show/hide options for standard AppleTV menus
Added option to manually install if no AppleTVs are detected
Improved auto-update disabling
Improved installation error handling
Minor UI adjustments
Media Player
Added new lightweight player
Added recently played items to 'Top Shelf' in main menu
Added Favorites to main menu
Added option to manually mark files as watched/unwatched
Added 'Test Connection' option for AFP/SMB shares
Added support for DVD subtitles
Added support for multiple DVD audio tracks
Added basic support for M2TS files
Improved overall video playback (especially HD video files)
Improved thumbnail generation when cover art is not available
Improved FF/RW controls
Improved DVD menu and video playback
Improved DVD playback progress reporting
Improved memory management
Improved AFP/SMB streaming
Improved error handling for invalid files
Resolved most video stuttering issues
Resolved energy saver mode issue
Resolved issue that resulted in some DVDs being displayed in (squished) 4x3 mode
Resolved numerous DVD playback issues
Resolved flickering when navigating through certain menus
Resolved additional conflicts with XBMC
Reduced number of network connections used
Minor UI and other miscellaneous fixes
Screenshots
So how much better is this new player?
In short, it's way, way, way better!
To more effectively illustrate real-world improvement we tested video playback in both Beta6 as well as the previous Beta5 version. The results show dramatic improvement in playback performance and system efficiency. More details can be seen in the graphs below.
Note: The source file used was an H.264 (AVC) video (24 FPS) with AAC audio, and was re-encoded into various resolutions for testing.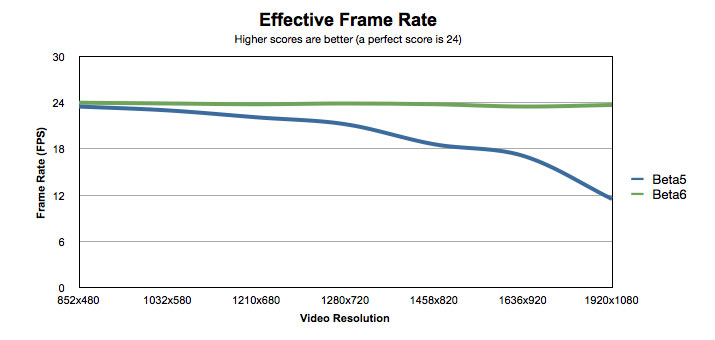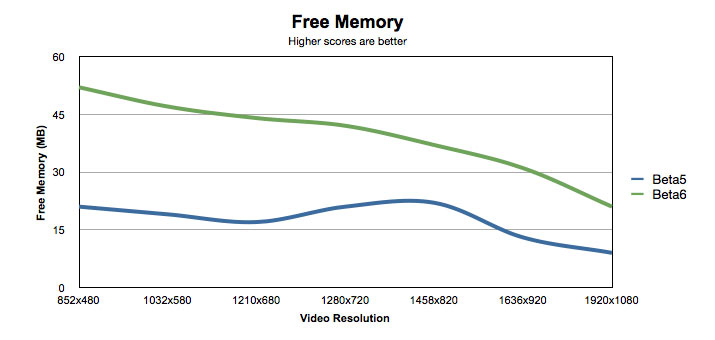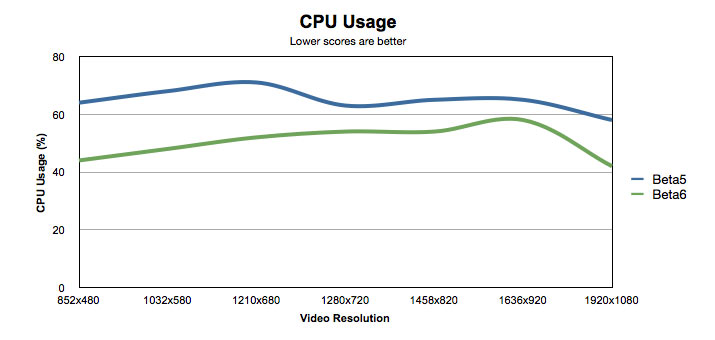 Awesome! Where can I get it?
If you're already running a version of aTV Flash (black) the new Beta6 version can be installed through the Maintenance --> Manage Extras menu. If for some reason you need to re-install aTV Flash (black) onto your AppleTV links for the new version can be found in your account under the Downloads tab.
New users can pre-order aTV Flash (black) here.
Enjoy! :-)