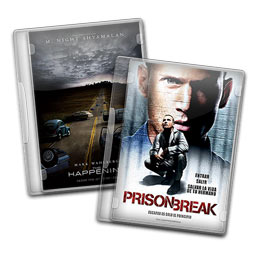 Happy Monday! Today we are pleased to announce the release of a hefty update of Media Player for the 2nd gen (black) AppleTV. Version 0.9 adds a handful of new features and a ton of performance related improvements and bug fixes. More details on what's included can be found below.
TV Show metadata and folder tagging
Media Player now supports automatically fetching series and episode information for TV Shows. This includes information such as episode name, cast, director, genre, air date, content rating and episode thumbnails. To enable TV Show metadata, the drive/folder that contains your TV Show files will need to be specifically tagged as TV Shows. Details on tagging a drive/folder are below.
Highlight the folder to be tagged.
Hold the center select button and select the 'TV Shows' option.
TV Show metadata will now be used for all media contained inside that folder.
Note: By default, subfolders will inherit the tag of the nearest parent folder. For Example: A folder called "My Fav Shows" has 3 folders inside it: 30 Rock, The Sopranos, and Top Gear. Marking the My Fav Shows folder with a TV Shows tag will cause TV Show metadata to be downloaded for all files contained inside the My Fav Shows folder as well as the 3 enclosed subfolders. Media Player will default to Movie metadata if no folder tags are specified.
Correcting movie metadata
Media Player tries its best to get metadata right on the first try, but unfortunately sometimes it may get it wrong. The good news is that now fixing incorrect movie metadata is simpler than ever! Just follow the steps below to get back on track.
Highlight a file that has incorrect metadata.
Hold the center select button and select the 'Reload Metadata' option.
Choose the correct movie title from the list.
What's new in version 0.9?
Added hardware decoding for .m2ts files
Added TV Show metadata fetching
Added option to correct movie metadata
Added DSI ping for better operation with AFP shares
Added folder tagging
Added metadata view indicator
Added support for metadata overriding using xml files
Added DVD menu buffering
Improved data buffering and playback performance
Improved network error handling
Improved filename parsing for metadata fetching
Improved NAS drives support and increased connection timeout
Improved video loading process
Improved playback position detection
Resolved audio synchronization issues
Resolved problems when streaming from an AirPort Extreme
Resolved issues that caused the first subtitle section to be skipped
Resolved performance and crash related issues for certain DVD files
Resolved audio playback issues when the connection to Last.fm fails
Resolved potential issues in shares handling and filename processing
Resolved AFP related crashes
Resolved .dvdmedia extensions and folder images not hiding
Resolved floating crash during metadata fetching
Resolved critical compatibility issues with iOS 5
Minor UI improvements
Many other miscellaneous fixes
Outstanding! Now how do I get it?
With aTV Flash (black) installed, Media Player 0.9 can be downloaded on your ATV2 through the Maintenance --> Manage Extras menu. If you need to re-install aTV Flash (black) links for the latest version can be found under the Downloads tab in your account.
New users can pre-order aTV Flash (black) here.
Enjoy!